New Zealand is one of the countries where "Coro" is regularly broadcast. It started in 1964. There was a huge outcry when the State-owned channel proposed to stop broadcasting it.
Behind UK
Edit
For several years it got an hour (including commercial breaks and a weather forecast) every Tuesday and Thursday at 7:30 pm. There were catch-up periods when it screened on Wednesdays too. Because the UK had started getting five episodes a week, New Zealand started falling further behind.
New Zealand is still over a year behind Britain with "Coro" episodes. (Canada is only 9 months behind.) Vernon Tomlin proposed to Liz McDonald on 3 June 2008, as far as New Zealanders are concerned, but it was really 13 April 2007.
However, TV1 has recently upped its game. In 2017 Coro started getting six episodes a week - an hour on three consecutive days. But as the UK has been getting six per week for some time, that was not a catch-up. In a memorable week early in May 2018, there were seven episodes. TVNZ's website hinted that there might be more such weeks.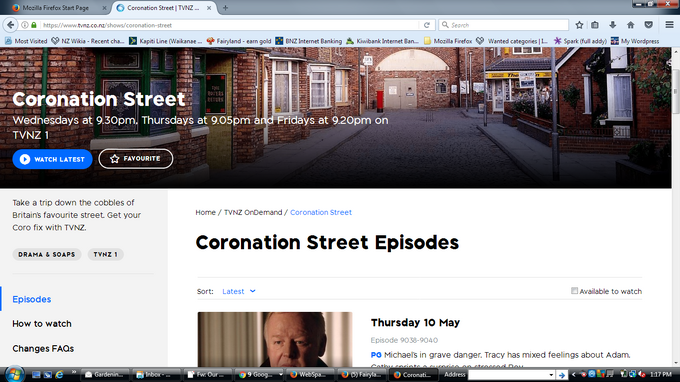 Recently TV ONE started broadcasting an omnibus edition at noon on Saturdays covering the previous week.
Important change, 2018
Edit
Around 10 May 2018, TVNZ announced a real almost-catch-up. On 10 June at 8:30pm there will be a 2-hour show covering most of the significant screen events in the 400-odd episodes that we are behind: births, deaths, marriages, breakups. Then a week or two after that we will be getting six episodes a week, at about 9:30pm three days a week, only one week behind the UK.
For Kiwis who want to catch up more slowly, the currently-airing episodes will continue with an hour at 1pm every weekday, which will catch up in a little over 2 years if nothing changes.
More precise details at tvnz.co.nz/coro and on the Coronation Street Wikia.
On-screen
Edit
New Zealand is occasionally mentioned in the script. A handy place to send characters so that viewers don't expect to see them again, or to dredge up "long-lost" relatives without having to explain why they have not been mentioned before.
External links
Edit
---

This article is a stub. You can help the New Zealand Wiki by expanding it.
Community content is available under
CC-BY-SA
unless otherwise noted.