Glen Innes
Suburb of Auckland

General Info
Coordinates:
36°52′34″S 174°51′41″E
Local authority:
Auckland Council
Electoral ward:
Maungakiekie-Tamaki
Local board:
Maungakiekie-Tamaki
Board subdivision:
Tamaki
Glen Innes is a working-class suburb located in East Auckland, New Zealand. It is neighboured by Point England to the South, St. Johns to the West, Kohimarama to the Northwest, St. Heliers to the North, Glendowie to the Northeast and Wai o Taiki Bay to the East.
Glen Innes borrows its name from Scottish farmer William Innes Taylor, who owned a large farm situated in the area in 1849.
In 1890, Taylor died of pneumonia and his farmland was gradually sold off as his surviving family members had no interest in the farm anymore.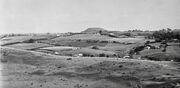 Around 1945, the remainder of the farmland owned by the Taylor family was sold off to the government, who intended to use the land as a living space for returning soldiers from World War II, with new state houses appearing in the area. Between the 40s and 60s, the government began constructing higher density housing in an effort to improve
state housing
in the area.
In 1955, Auckland City Council approved of the Ministry of Works' plans to build a town center in the farmland, which included space for multiple stores and facilities. The 1950s also introduced new schooling in the area, which included (in order of time built) Glenbrae School, Tamaki College, Glen Taylor School, and Glen Innes Intermediate School.
By the 1960s, Glen Innes was thriving, with multiple shops and local facilities such as the public library opening in the area. However, by the mid-1960s, with the opening of the Pakuranga Plaza, multiple businesses suffered as a result of the new mall's popularity.
In 2003, the town center was renovated and as of current, Glen Innes retains its thriving position, with over 150 businesses/stores running in the area.
Character
Edit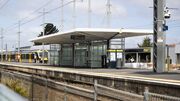 Glen Innes has generally been a working-class area with low income for most of the time. It has been inhabited by a large number of ethnically diverse peoples, including but not exclusive to
Pacific Islanders
,
Maori
, Europeans, and Asians.
A large number of state housing is located in the area, which seems to be the predominant type of housing within the area.
The main roads within the suburb are Apirana Avenue and Taniwha Street, which both meet at the shopping center.
Local facilities include a variety of stores and businesses (including supermarkets and fast-food chains), multiple parks and reserves, banks, a community hall, an art center, a public pool, a library, a police station, bus stops and a train station and 3 gas stations.
Redevelopment conflict
Edit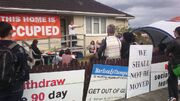 A controversial redevelopment process has been taking place in Glen Innes, which includes redeveloping existing state buildings in order to "make better use of land" as stated by Housing New Zealand. This process involves moving tenants out of houses to make way for newer, privately owned homes. Many protests have broken out in the community due to this. Members of the community argue it is a gentrification process that is tearing Glen Innes apart.
Community content is available under
CC-BY-SA
unless otherwise noted.