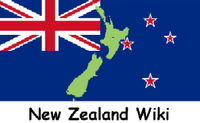 The New Zealand Wikia is holding a logo contest to redesign the main New Zealand logo and the site's favicon.
Logos must have a width of no more than 135px and a height of no more than 155px.
Favicons must be valid ico files, or images which can later be converted into ico files, and have a size of 16x16.
You must own the copyright on any images you use to make the logo and be prepared to transfer ownership of it if your logo is used.
Any user may add comments about any of the entries below.
The final choice will be made by the New Zealand Wikia Community on a date yet to be decided.
Instructions
Edit
Upload a logo or favicon using Special:Upload (you need to be logged in)
Add your entry at the end of this page using the following template:

===Name===
{|
|-
|[[Image:Imagename.png]]
|-
|Created by: ~~~
|-
|Description: 
|-
|'''Comments''':
*
*
|}